Nature's Green Grocer is the largest full service natural food grocery store in the Monadnock Region with over 15,000 products! We offer the best all organic produce selection (local in season); a full selection of gourmet cheeses that are as local as possible; butcher dept offers fresh cut all natural meats (local where available); seafood delivered fresh from Boston 6 days a week; bakery dept; cafe using the most local/organic best ingredients (has organic juice & organic smoothie bar); large selection of vitamins/supplements/all natural organic beauty care products. We strive to give the best quality without compromise, the best knowledgeable personal service, & the most complete selection of products in our area! Our mission is to help people live a better life through better diet and supplementation!
Produce Dept: We know that the root to accomplishing our mission is in what the earth has to offer us organically. Taking that to practice, we offer only all organic produce as local as possible. Organic produce doesn't need to be something you can't afford: firstly because we have the best prices on organic produce; secondly because it's a matter of perception - people buy the best cars, electronics, houses, etc - why compromise on our body...the only thing that is truly ours and let's face it, doesn't last forever; thirdly - it just tastes better, if that's not reason enough to buy organic, I don't know what is! Produce is to be somewhat seasonal, not just available all year long, so you will not find every item possible in our selection all year long. We take that to be exciting though, because nature always has a mixed bag to offer us, knowing how bored we get!
Meat Dept: As a long standing supporter of independent natural food stores (as a consumer), I always found it very difficult not having fresh good quality meat available that I could trust. I knew one of Nature's Green Grocer's center points had to fix that. But not without difficulty. I have to place orders with all different people and at least 3-4 weeks in advance since they process around orders placed, not just expecting thousands of pounds of demand every day. Buying is tricky - retail guidelines require all meat sold in a retail store to be processed in a USDA inspected slaughter house, which makes local difficult since most New England ranchers/farmers process in the fall only & freeze their meat. Our beef is certified organic, and comes from Organic Prairie, and is pasture raised and finished. I now purchase in whole beef sides only (they are broken down for me by the processing house), and have most all cuts available throughout the week. Come to the meat counter with the mindset of trying new cuts, and help us use the whole animal, and not waste! This means all of the beef you see in our meat case is from only 1 cow at a time - now that is knowing where your beef comes from! We grind our own beef 2-3 times daily from single cow primals (and can also grind chicken, pork etc on request). I have yet to find a local fresh source for pork year round, so I buy Niman Ranch, which is all ranch tagged, and the leaders for the last 30 + years in sustainable/ natural/small ranch ranching. We now offer Misty knolls of Vermont chicken! and turkey. Our meat/cheese deli offers Applegate Farms meats & cheeses, which is real deli meat and you can taste the difference - ask us for a sample! All meats fresh cut or packaged are humainely treated, no hormones/antibiotics, no nitrates/nitrites ever, no gluten, and minimally processed - so please support our meat case, so that we can continue to offer this quality and better - ENJOY!
Meet Our Staff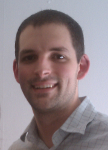 Joel, Owner
I have been Passionate about food since I can remember! Trained as a Chef, I was lucky to find someone as passionate about food as I when I met my wife Cheyenne.  Born and raised (three generations) in Peterborough, NH, I returned (along with my wife Cheyenne, and two boys Renzo and Tre) to put my love for people, community, and delicious organic/sustainable food to fruition by serving the Monadnock Region for years to come! Contact me